Laboratory of Interfacial Electrochemistry, Hokkaido Univ., Japan
Hiroki Habazaki and Yoshitaka Aoki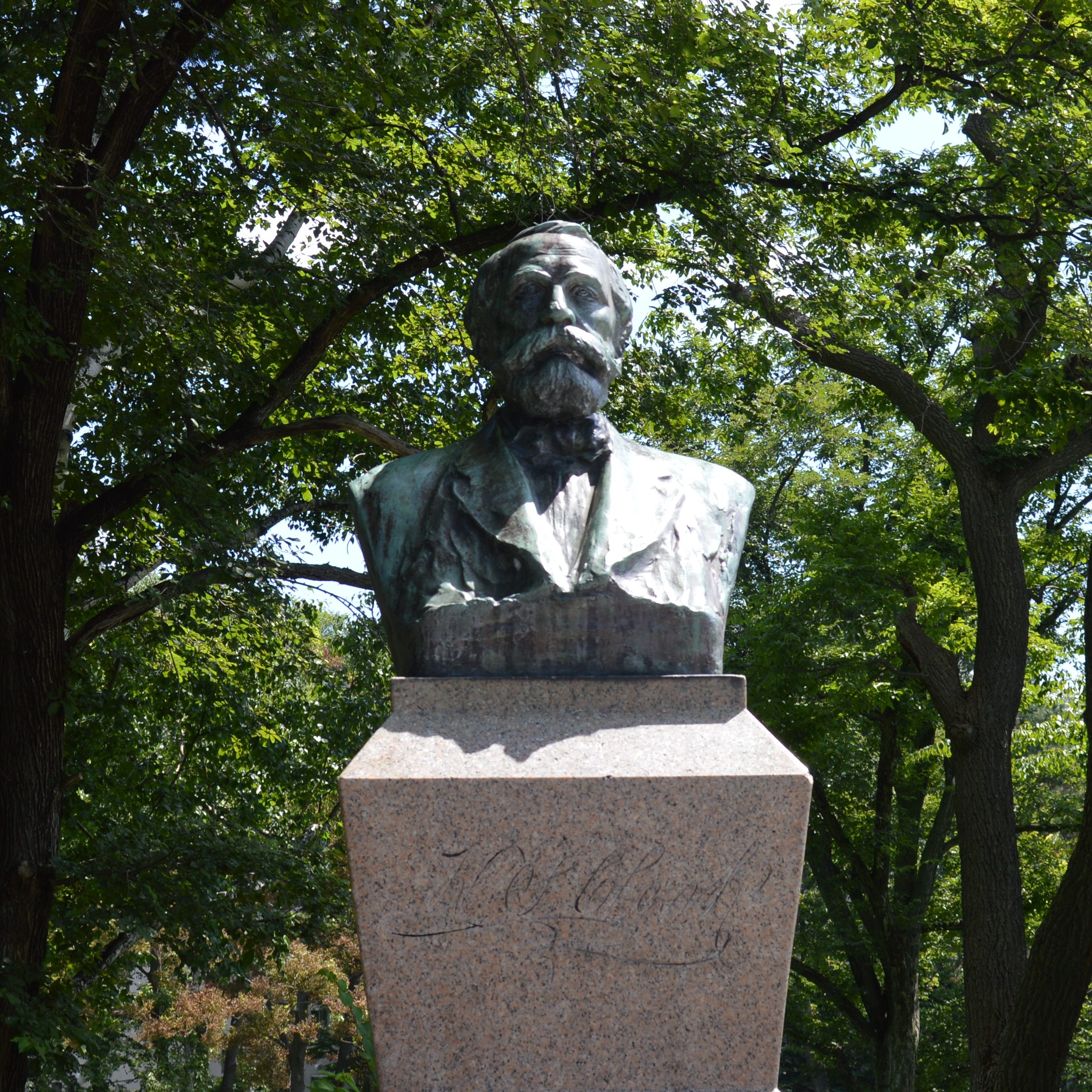 Members
Staff
Professor
Hiroki Habazaki, Dr.Sc.
habazaki(at)eng.hokudai.ac.jp,
TEL/FAX 011-706-6575
Room MC534
Research Gate
Associate Professor
Yoshitaka Aoki, Dr.Eng.
y-aoki(at)eng.hokudai.ac.jp,
TEL/FAX 011-706-6752
Room MC532
Research Gate
Assistant Professor (specially appointed)
Sho Kitano, Dr.Eng.
skitano(at)eng.hokudai.ac.jp,
TEL 011-706-6735
Room MC523
Senior Principal Scientist
Damian Kowalski, Dr.Eng.
kowalski(at)cat.hokudai.ac.jp,
TEL 011-706-6735
Room MC523
Research Gate
Researcher
Laras Fadillah
larasfadillah(at)gmail.com,
TEL 011-706-6738
Room MC533
Research Gate
Secretary
Yoko Iwata
kaimen_sec(at)eng.hokudai.ac.jp,
TEL/FAX 011-706-6736
Room MC533
Technical staff
Yukako Yamashita
Ayami Kishi
Students
PhD stutents
Yuki Sato(ALP)
ysato-eng(at)eis.hokudai.ac.jp,
Research Gate
SeongWoo Jeong(ALP)
cxer(at)naver.com
Chunmei Tang
tangchunmei554(at)foxmail.com
Hajime Toriumi
hajime-t(at)eis.hokudai.ac.jp
PhD stutents from company
Masataka Hiyoshi
2nd year in Master course
Xiangjun Shen
shxj0912(at)163.com
Jumpei Ikeura
junponpon(at)eis.hokudai.ac.jp
Tatsuyuki Takano
t_t_0117soccer(at)eis.hokudai.ac.jp
Shin'ichi Nishimura
rufy0505(at)eis.hokudai.ac.jp
Ruijie Zhu (ALP)
SJTUtaeja(at)outlook.com
Kensuke Sakuraba
knskupaupa0304(at)yahoo.co.jp
1st year in Master course
Katsuya Akimoto
katsuuaki(at)eis.hokudai.ac.jp
Masahiro Nishimoto
kusunokienoki(at)gmail.com
Ryoya Masuda
rr18pn-gwaterelms(at)eis.hokudai.ac.jp
Ryota Yamamoto
yamamobeat0416(at)eis.hokudai.ac.jp
Takahiro Mori
xiaoyangsen(at)gmail.com
Yuya Yato
y-yato(at)elms.hokudai.ac.jp
Undergraduate students
Daisuke Endo
dai-endo(at)eis.hokudai.ac.jp
Naoki Kamitani
hyrynadnad(at)gmail.com
Reiko Takusari
mei-minidachsh-0415(at)eis.hokudai.ac.jp
Shuya Fujita
b5110040f(at)gmail.com
Research Interests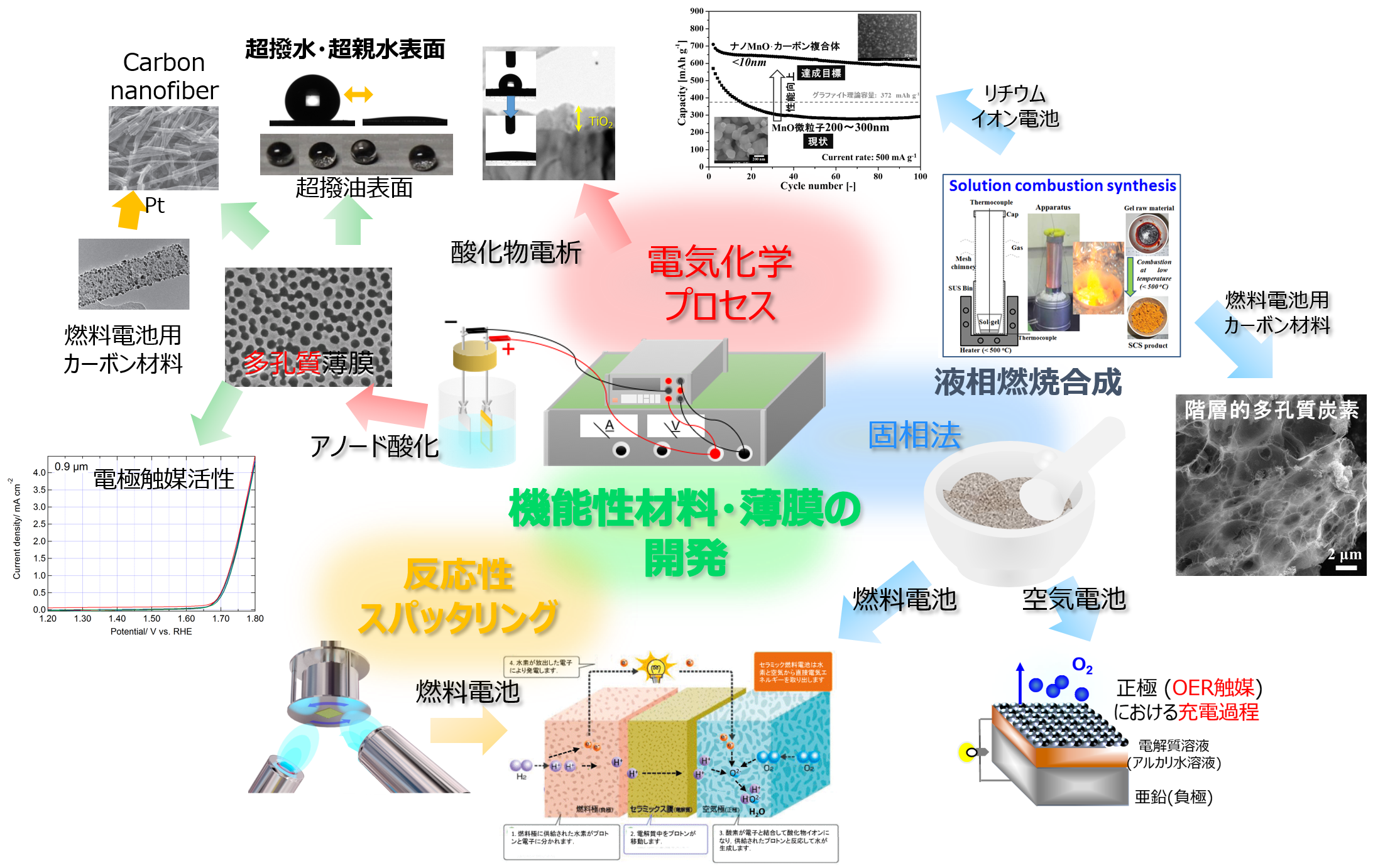 Preparation of superoleophobic/hydrophobic surfaces and slippery liquid infused porous surfaces using the nanostructural control via anodizing
Self-organized porous anodic oxide films: tailoring of new formation process, understanding of formation mechanism and application
Barrier-type anodic oxide films on valve metal alloys: correlation between composition, structure and properties of oxides
Synthesis of nanomaterials using porous anodic alumina template and metal oxide particles
Development of new ORR and OER catalysts for fuel cells and metal-air batteries
Understanding of the deterioration process of metal-air secondary batteries' electrodes
Preparation of anatase type TiO2 thin films via cathodic deposition and their application
Solid state ionics for the energy conversion system
Development of H-/H+ conductive materials for the energy conversion system
Preparation of the thin-film by means of sputtering for fuel cells and water electrolysis
Development of metal-cluster loaded nanosheet electrocatalysts
Characterization of nano-functional surfaces
Topics
2020.09.24
Dr. Wang Ning received the doctoral degree of engineering and went back to China.
We express the respect for her three years efforts and appreciate for her contribution for our lab.
We hope her new life in China to be successful and fruitful!
非常感谢你!再见!
2020.07.13
Our neww publication entitled
"Fluorine‐Free Slippery Liquid‐Infused Porous Surfaces Prepared Using Hierarchically Porous Aluminum"
contributed by our alumni Inoue-san was selected as the cover picture article !!!
Congraturation Inoue-san !!!
2020.06
Professor Hiroki Habazaki received the
fellow title
from the Electrochemical Society of Japan.
2020.06.02
We recovered from the lockdown associated
with the pandemic of COVID-19.
We will restart our job, step by step!!
2020.04.01
Mr. Daisuke Endo, Mr. Naoki Kamitani, Ms. Reiko Takusari,
Mr. Shuya Fujita, Mr. Takahiro Mori and Mr. Yuya Yato
join our lab!
Welcome !!
2020.04.01
We established the new website and Instagram!
Please follow us!!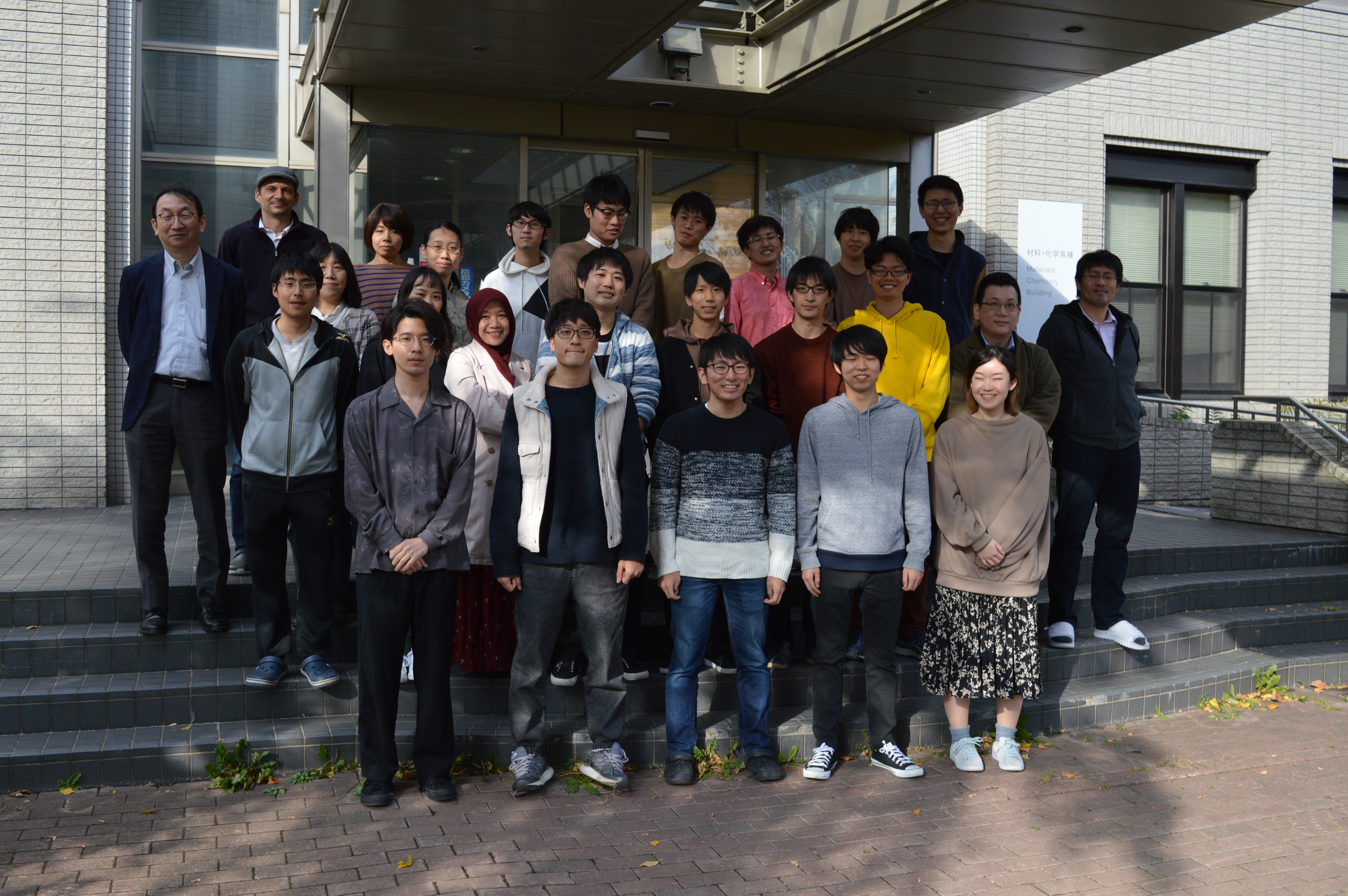 Access
Division of Applied Chemistry, Faculty of Engineering,
Hokkaido University
N13W8, Kita-ku, Sapporo, 060-8628, Japan
5th floor of Materials Engineering and Chemistry BLDG
15 min walk from Kita-12jo subway station
(N05, Namboku-line, Sapporo City Subway)
The detail guide is shown here.
Web Master
Yuki Sato
ysato-eng(AT)eis.hokudai.ac.jp
Affiliation