本研究室では,高効率な水素製造法の開発や,高性能・高耐久電池およびコンデンサの構築を通じ,電気化学・材料科学の観点から持続可能な開発目標(SDGs)の具現化に対する貢献を試みています。
また,電気化学をツールとして,各種の表面処理技術を組み合わせながら,高耐食性,超撥水・超撥油性,光触媒能といった機能を有する表面の構築にも取り組んでいます。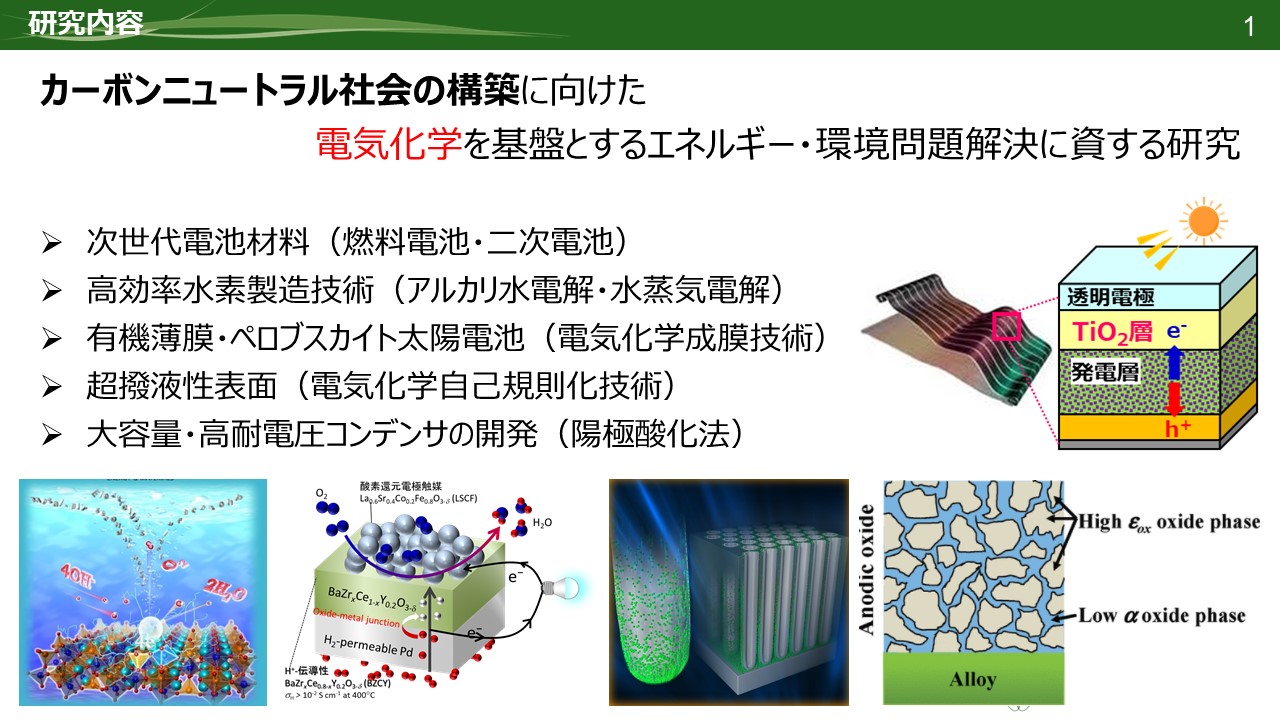 最近の論文については以下をご参照ください!
高温水電解,固体酸化物型燃料電池関連
S.W. Jeong et al., "Metal/Oxide Heterojunction Boosts Fuel Cell Cathode Reaction at Low Temperatures", Adv. Energy Mater., 11, 2102025 (2021).
C. Tang et al., "The effect of an anode functional layer on the steam electrolysis performances of protonic solid oxide cells", J. Mater. Chem. A, 9, 14032-14042 (2021).
青木 芳尚:「特集:水素エネルギー社会に向けた新たなる要素技術開発の最前線 ― 5.金属窒化物におけるヒドリド欠陥生成と水素透過」,電気化学,89(3), 252-267 (2021).
水電解,空気電池関連
M. Nishimoto et al., "Highly Active and Durable FeNiCo Oxyhydroxide Oxygen Evolution Reaction Electrocatalysts Derived from Fluoride Precursors", ACS Sustainable Chemistry & Engineering, 9, 9465-9473 (2021).
Y. Aoki and K. Takase et al., "In Situ Activation of a Manganese Perovskite Oxygen Reduction Catalyst in Concentrated Alkaline Media", J. Am. Chem. Soc., 143, 6505-6515 (2021).
Y. Sato et al., "High-Corrosion-Resistance Mechanism of Graphitized Platelet-type Carbon Nanofibers under OER in Concentrated Alkaline Electrolyte", J. Mater. Chem. A, in press.
表面処理関連
K. Sakuraba et al., "Slippery Liquid-Infused Porous Surfaces on Aluminum for Corrosion Protection with Improved Self-Healing Ability", ACS Applied Materials & Interfaces, 13, 45089-45096 (2021).
R. Yamamoto et al., "Fabrication of superhydrophobic copper metal nanowire surfaces with high thermal conductivity", Appl. Surf. Sci., 537, 147854 (2021).
R. Zhu et al., "A low-cost and non-corrosive electropolishing strategy for long-life zinc metal anode in rechargeable aqueous battery", Energy Storage Materials, 46, 223-232 (2022).
J.H. Cao et al., "Highly increased breakdown potential of anodic films on aluminum using a sealed porous layer", J. Solid-State Electrochemistry, 22, 2073–2081 (2018).
幅崎 浩樹:「金属のアノード酸化技術の最近の研究動向」, 表面技術, 67, 508-514 (2016).
幅崎 浩樹:「ステンレス鋼の超撥水化・超撥油化」,表面技術,80, 604-607 (2019).
研究室配属希望者向けの案内はこちらから
こちらから見学会用の案内もダウンロードできます。